Commercial Drain Cleaning
WaterGuard Plumbing has over 20 years of experience working with commercial sewage lines, commercial drain cleaning and sewage systems in the GTA including Toronto, Brampton, Mississauga, Oakville, Burlington, Milton, Hamilton and more.
We ensure that your commercial property runs plumbing and water smoothly in and out. WaterGuard Plumbing guarantees 100% customer satisfaction on each one of our plumbing services.
Toronto's Best Commercial Drain Line Cleaning Company
If you own a business or you're a commercial property landlord in need of plumbing, contact our expert plumbers right now. We take can take on every scope of work, whether it is a big or small plumbing job. Whether it is a mall, commercial office, condominium, residential retirement homes, or restaurant, we take plumbing contracting to the next level.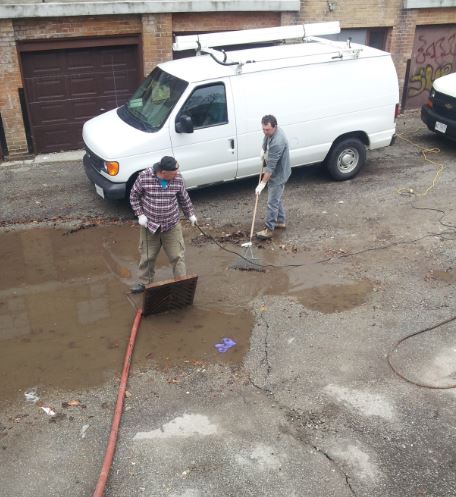 Clogged drain lines can lead to larger water damages. Flooding, water backups, clog and sewage material feedback are all situations that aren't new to us. At WaterGuard Plumbing, we take pride in the dirty work required to handle your plumbing problems. We use the latest technology of camera inspections and ensure that we know exactly where to dig, repair, or drill (if needed). At times, none of the above is required. So we are fair and square on every plumbing job available to us, and we help you save on unnecessary costs.
We make things easier for businesses to keep running 365 days year round. Call us now, and our WaterGuard Plumbing experts will inspect, clean, and ensures that clogging is eliminated from your drain lines and that your drains are clean for many years to forward.
Do not rely on inexperienced and uninsured plumbing contractors. If something goes work while they mishandle tools, no warranty will be provided when the job is completed. In any case of street flood, water damage, or anything to your house or your neighbors, you will be responsible. So rely on a good reputable contractors with real reviews in order for you to sleep well at night.
Commercial Drain Cleaning is our expertise. We worked with many companies across the GTA including Vaughan, Richmond Hill, Thornhill, Concord, Mississauga, Brampton, Oakville, Burlington and more. WaterGuard Plumbing further assisted the city with any major plumbing problems that were caused during winter weather and harsh conditions. WaterGuard Plumbing repairs all roads, streets and commercial units with the best plumbing expertise available in the Toronto market.
Call our professional, local plumbers to assess your drainage problems in your commercial unit and we will help you achieve your goals in a cost effective way.
WaterGuard Plumbing has the experience working on and to tools to make sure that your plumbing, sewage and drain work properly and efficiently. For major plumbing problems, call us today. If it's a small plumbing job, call us too!
Our plumbing contractors are working in the Greater Toronto 24/7 on emergency drain cleaning and clogged drain services. Contact us for a free consultation, and no obligation quote over the phone now.