Drain Line Cleaning
WaterGuard Plumbing has over 20 years of experience working with sewage lines, drain cleaning, and plumbing systems in the Greater Toronto Area including Mississauga, Oakville, Burlington, Milton, Hamilton and more.
Few of the most common requests by homeowners and commercial properties today is to have the main drain line cleaned thoroughly. There any many reasons for such a request, but the most common are drain clog.
Toronto's Best Drain Line Cleaning Company
Having the drain line clogged is simply an unpleasant situation. Toilets don't flush properly; water does not flow as fast as it used to and more. There are ways to protect such situations of happening, such as not to drain down in the toilet and sink large objects and greasy oils, but at times, natural forces or animals tend to get in the way.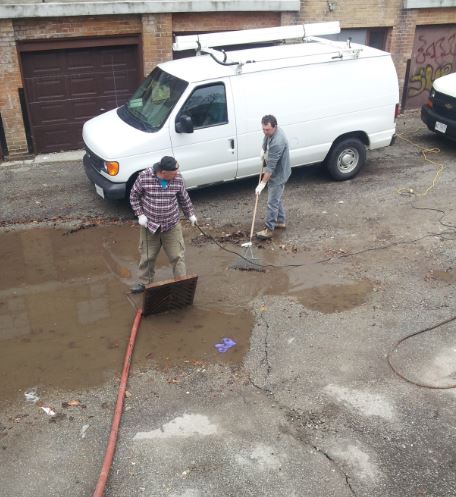 Clogged drain lines can lead to larger water damages such as flooding and water backing up into your home, which tends to have unpleasant sewage materials. The blockage can further get into places you do not see, such as behind the walls, causing significant structural damage to the framing of the home and floors.
To make things easier, WaterGuard Plumbing inspects, cleans, and ensures that clogging is eliminated and that your drains are clean for many years to come.
Wear eye protection, gloves, don't wear any loose clothing if you DIY. However, purchasing the equipment necessary and proceeding with such tasks is not safe and not as comfortable as it looks. You need to know where to empty and clean up your drain. Some drainage lines go beyond 50', and you'll need the right equipment to reach such depths. Using the right rooter, sewer snake cable, and rooter bits is also an expert task.
---
---
There are many things to consider and only a professional and licensed plumber should undertake such work. Avoid any confrontation with your sewage lines and plumbing systems if you have little knowledge of the things needed to clean your clogged sewage lines. Sewage water can even get onto the streets, and your neighbors will not be as happy to see wastewater fluids run down towards their house.
Professional Drain Line Cleaning
Call a professional, local plumber to assess your drainage problems and help you achieve your goals in a cost-effective way. WaterGuard has the experience and to tools to make sure that your plumbing systems are at the best shape for many years to come. Visit our testimonials page to read more about what our clients have to say about our drain cleaning services for commercial and residential homes.
Our plumbing contractors are working in the GTA 24/7 on emergency drain cleaning and clogged drain services. Contact us for a free, no obligation quote. We will be on site within 30-min of your service call.