New sewer drain installation in your basement is a job you should only trust with experts. In the event that You decide to a full basement renovation, lower (underpin) your basement floor, build a house, or just re-design and add an extra washroom – we are here to provide you with a free, no obligation consultation.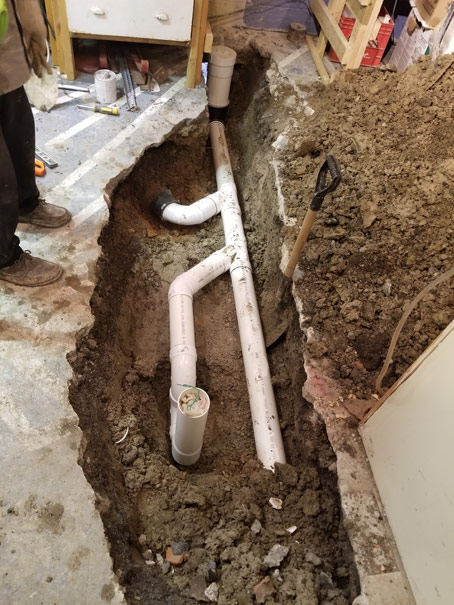 Usually, during basement renovations, the underground utilities are being overlooked, which eventually creates a big surprise to the homeowner. Imagine a usual situation our company has to deal with – a homeowner just fully renovated his basement investing $35000 into the reno. The place looks beautiful and owners have finally got a place for comfortable family time spending. Then the horror scenario happens – big rainfall with water leaking from the walls and the sewage has just filled the basement with 5 inches of smelly water. Owner's favourite carpet looks more like a rag or the whole place looks more like a swimming pool. Insurance company comes with an adjuster, determines that everything is written off and the renovation will take another two months and a lot of headaches. Nobody wants to be that homeowner and believe us – this happens more than anyone would like it to.
If this occurs, our technician comes in for Drain Line Camera Inspection Service and provides the customer with a work plan. Typically we lift up new tiles or carpet, break the concrete and replace the old clay lines with brand new plastic ones. A backwater valve is also installed in order to factor out the possibility of a street sewer line overfilling and making its way into Your home.
Do not put yourself up to the risk of having to live through this life scenario, but assured and protected. Call us for a free consultation, book the appointment for your new drain line installation. And if you are in doubt, use our Drain Line Camera Inspection Service to see what you cover with those expensive Italian tiles and be safe with Water Guard!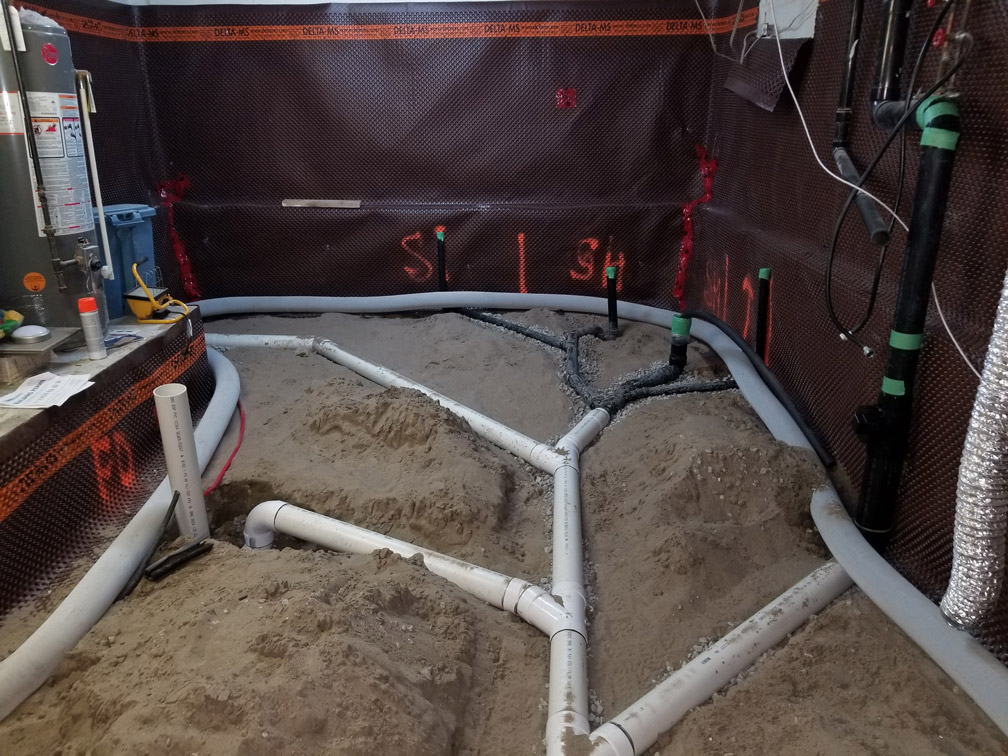 Basement Washroom Addition
In case you think about adding a new washroom in your basement, call us at 647-832-1738 and mention our $1999 package which includes the addition of a 3-piece washroom (shower, toilet, sink) with full venting and water service. (conditions apply).
Basement Sewer FAQs
Is basement floor drain connected to the sanitary sewer?
Yes, the sanitary sewer system is connected to the basement at a floor drain or at plumbing fixtures.

Why is water coming up from basement drain?
Often the problem occurs from sewer water backing up from sanitary sewer system because individual service lines blocked or water overwhelmed.

Why does my basement drain smell?
A strong sewer smell coming from your basement drain is usually caused by a damaged sewer line. You need to contact professional plumbers to avoid further damage to your property.