In addition to our wide range of plumbing services, we offer trenchless sewer line repair to our residential and commercial customers across the GTA. The use of trenchless technology has become more prevalent in recent years, and for good reason. This groundbreaking technology preserves your landscape while repairing your underground water lines.
Why is trenchless sewer line repair the right choice for you?
If you own residential or commercial property, you know that repairing or replacing your water pipes is a crucial part of ensuring you have an efficient sewer system. However, the idea of disrupting your landscape and unearthing piles of dirt to access underground pipes in need of repair may be disenchanting, and often leads to additional expenses.
Our trenchless sewer line repair technique not only meets your repair needs, but we take great pride in offering you a solution that is cost-efficient, safe and convenient for you.
The benefits of this type of repair include:
Safe and convenient pipe repair with minimal excavation
Cutting-edge technology and techniques
Sewer line repair can be completed in one day
High-quality work completed by a team with 20+ years of experience
How does trenchless sewer line repair work?
Instead of digging a large trench around a faulty pipe to repair it, trenchless sewer line repair – also referred to as trenchless pipe repair – makes it possible for sewer repair specialists to repair or replace your sewer pipes without damaging your lawn. While there will still be some digging involved, the destruction to the surrounding surface area will be minimal. This means more money in your pockets, which is why more and more property owners are opting for this option.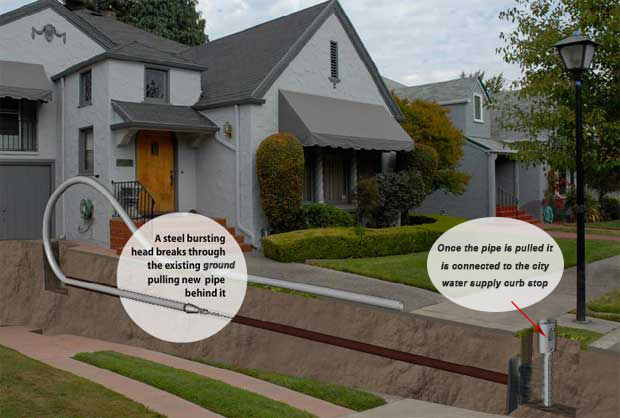 Before any digging begins, sewer line specialists first assess the extent of the damage by running a long flexible pipe down a drain inside your home to inspect the pipe. At the tip of the pipe is a camera which allows the plumber to see where the damaged area is. Once the damaged area has been located, the sewer line specialist will determine where the sewer pipe can be accessed at the shallowest point. Most times, this is either in the basement or some area close to the home. Then, a hydro-jetter is used to flush out the host pipe, and a mechanical plumbing snake clears out any remaining debris.
The sewer line is then repaired as needed. If it is damaged beyond repair, we use our advanced torpedo technology to fix the problem. We lower a pipe-cutting head that pushes the damaged pipe out, allowing the new pipe to easily take its place.
How to know when trenchless sewer line repair is necessary
Although sewer pipes tend to last for a long time, weather and other environmental elements cause pipes to deteriorate over time.
You may be in need of trenchless sewer line repair or replacement if you notice the following signs:
A foul odor in your yard – a sign of raw sewage passing through a broken sewer line will seep through the cracked area and make its way to the surface.

Unusual gurgling sounds in your bathroom, or sludge in the bathtub or sink – these are telltale signs that your sewer line may need repair.
If you notice any of these signs, call a sewer line professional immediately. Delaying may result in serious damage to your yard and property. In most cases, trenchless sewer line repair can be used to remedy such issues.
We have over 15 years of experience with plumbing needs in the GTA, and we are committed to excellence. The solution for your plumbing needs is just a phone call away. Tell us how best we can serve you by calling our office at 647-832-1738, or sending us an email at info@waterguardplumbing.com.