---
Water lines are a vital element in all modern residential and commercial spaces. If this pipe gets damaged then you will no longer have access to fresh, clean water, and you may find your daily activities grinding to a halt. Calling a plumber for emergency water line repair could be your only option, and you have to make sure that you hire someone experienced and trustworthy. Water Guard has been providing maintenance and emergency plumbing services in the GTA for over 15 years; we can bring you the cleanest fix without hidden costs, and fast.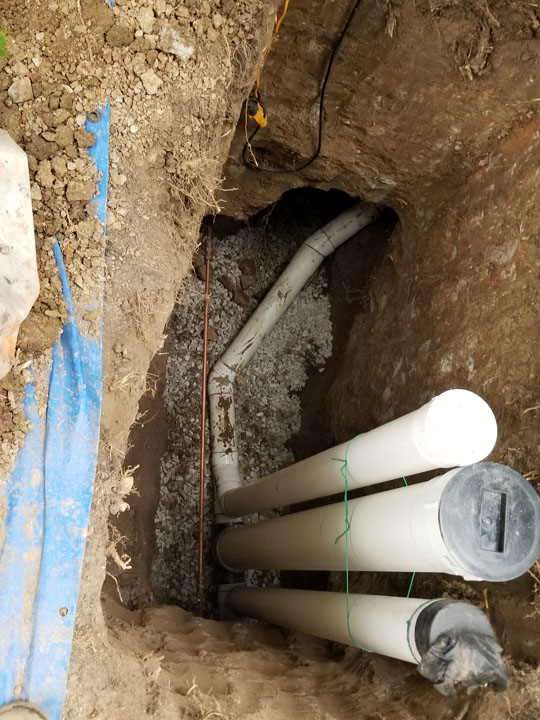 Why Does My Water Line Need Repair?
All pipes wear down over time, and the material they are made from can make a big difference as to why they need repair. It can be as simple as corrosion and rust over time as with iron pipes, and as alarming as pressure changes causing an entire pipe to burst as with any pipe. Sometimes ABS, PVC or clay pipes crack due to shifts in the ground, the addition of a new structure above them, or just cold weather conditions. Finally, plant roots can find purchase and force their way into the pipe over time.
The effects of water line damage can also range in scale. Some common problems include:
Decreased water pressure throughout the building
Brown or otherwise discolored water
Water damage and flooding
Issues with clogging or drainage
What Is Trenchless Water Line Repair?
Modern plumbing experts often recommend trenchless water line repair because it saves our clients both time and money. This technique begins with a camera inspection; a camera on a long flexible pipe is lowered into the water line to isolate the damage. This means you will not have any unnecessary damage to your property while we search for the problem area.
Once the place is pinpointed the repairs can begin. Instead of digging a long trench and creating an unnecessary mess, we will only have to dig holes on either end of the damaged length of pipe. Next, we insert a pipe-cutting head that drags the new length of pipe behind it. We can finish the entire job within a single day, saving you a headache and a massive bill.
Trust Plumbing Professionals
Whether you require emergency plumbing services or regular maintenance – call us and one of our experienced team members will be dispatched for a free, no-obligation quote. We follow all the latest municipality requirements to ensure that our work meets the latest industry standards.
We understand that every project is different, and we approach it with special care. Contact us and we will locate the problem, explain the situation to you and tackle the project as efficiently as possible. Regardless of your issue – we can help! Call us today at 647-832-1738 for a free, no obligation quote for all of your water and drain issues.
FAQs Water Line Repair
Water line repair cost?
Usually, the cost can vary greatly based on the several factors like severity of the damage, location of the repair, location of your water main and the length of pipe being replaced. If your water main line is far away from your home, then you can expect additional cost.
How long does it take to repair a water line?
The duration of Water line repair depends on several factors such as the location of the rapture, age of the pipes, type of pipes are made of, length and size of the pipe, repair method and the damage the rapture caused, useley it takes few hours but sometimes it may take days.