For many, realizing that they have a damaged or burst water line is the beginning of a nightmare. The cost and destruction of isolating the problem with traditional techniques, then having a big, ugly trench in their yard or driveway may seem unavoidable. And addressing the problem is unavoidable, common symptoms of a burst water line are:
Flooding
Higher water bills
Lowered overall water pressure
Contaminants in the home's water supply
The good news is that the Water Guard Plumbing technicians are experts at trenchless water line replacement. This modern technique allows us to replace entire sections of underground pipe without digging up your garden or driveway with a huge trench, saving you time, money and stress.
Why Did My Water Line Break?
There are many factors that can lead to water line damage. Older pipes were made from older materials, at a time with different performance standards. Ceramics pipes can last for a long time, but the slow shift of the ground can crack and burst the pipe with pressure it was not expected to handle. Factors such as cold weather freezing water inside the pipe, and structures like sidewalks adding excess pressure can also contribute to the problem.
Water Line Replacement Without the Digging
The trenchless repair technique only requires digging at either end of the section to be repaired, saving the patio, driveway, garden and land between the two spots. This can be important, as attempting an excavation repair may disturb other pipes in the area, leading to extra breaks and problems. Furthermore, as opposed to a weeks-long excavation process, the trenchless water line replacement can take one day!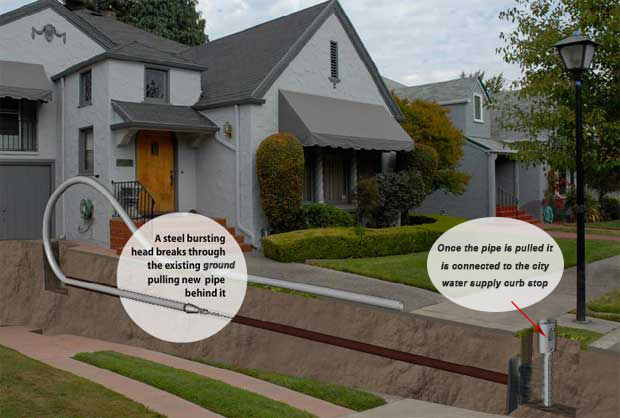 Our professionals will insert a pipe cutting head into the damaged water line, which can even be extended to accommodate the installation of a wider pipe. The cutting head drags the replacement pipe behind it, sliding it into place as the old one is destroyed and pushed out of the way. And, almost surgically, your new pipe has been installed. All that is left is the clean up the minimal mess, and be on our way.
Emergency Plumbing Experts
Water Guard has over 15 years of experience in many different projects, and our team can provide the best service in GTA on any of your plumbing needs. We understand that every project is different, and we approach it with special care. Call us and we will locate the problem and tackle the project as efficiently as possible. Regardless of your issue – we can help! Call us today at 647-832-1738 for a free, no obligation quote for all of your plumbing issues.
---