Camera inspection can save a day if your sink, tub or toilet is draining slowly and may have some problem. Whether someone dropped a solid object down into the drain or simple organic buildup is causing a clog, the Water Guard team can be at your home within 30 minutes with your solution. We have the tools and the expertise to tackle your plumbing issue without the undue mess, bringing you an efficient end to any problem that you might have.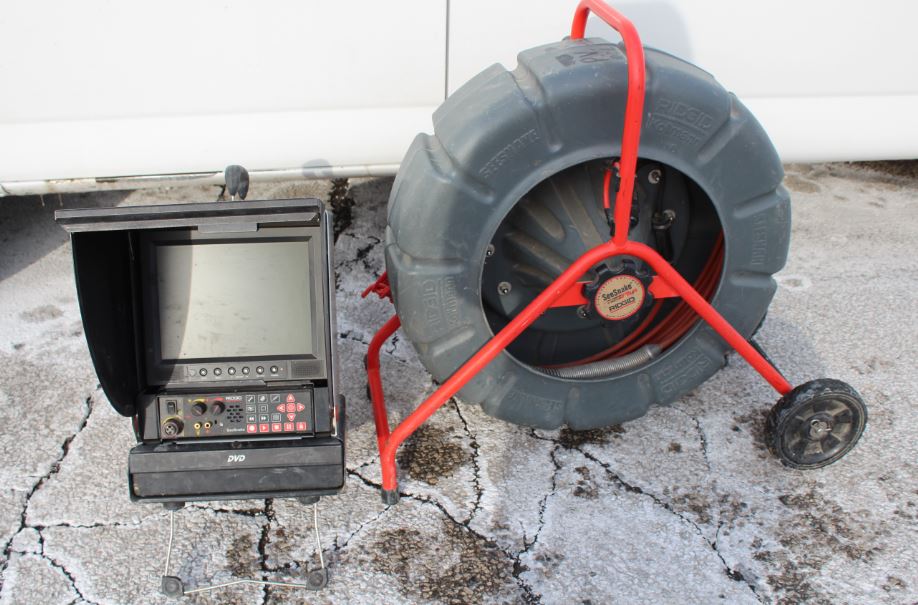 How Does a Drain Camera Inspection Work?
Our technicians will be able to accurately identify what is wrong with your drain pipe and exactly where. The camera is held and controlled by a long cable upwards of 330 feet in length and lowered into the drain to visually identify the obstruction. Unlike traditional plumbing techniques that require technicians to rip up your home and property to isolate a problem, a drain camera inspection is unobtrusive and more accurate. Whereas the traditional plumber can cause undue harm by failing to locate the source of the issue, and have to do more damage looking for it again, this modern technique does not carry the same potential consequences.
After the problem is isolated our professional team will then decide the most efficient solution to it. In some cases, we will be able to send a rooter (or sewer snake) into the drain. The sewer snake functions similarly to the camera, except it is designed to break up the clog and end your drain problems. On the whole, our technicians will be minimizing your inconvenience and solving your problem as fast as possible with surgical precision.
Hire Water Guard Plumbing Professional
It is possible to buy your own drain camera set, but the quality equipment owned by professionals can be upwards of $15 000. Rentals are cheaper than that, but the learning curve is significant, and you will spend a significant part of your day trying to figure out how to properly use the machine and interpret the data. Calling Water Guard Plumbing means you will have a trained technician on your property performing your drain camera inspection within 30 minutes of your call.
If you are having any plumbing issues you know you can rely on the #1 plumbing company in the GTA. We have over 15 years of experience responding the plumbing issues big and small with reliability and efficiency. Call us today at 647-832-1738 for a free, no obligation quote for all of your plumbing issues.
Water Guard Plumbing services Toronto, Etobicoke, Scarborough, Burlington, Oakville, Mississauga, Brampton, Milton, North York, Vaughan, Richmond Hill, Thornhill, Markham, Stouffville, Newmarket, and the rest of the GTA and York Region.
---
Camera Inspection FAQs
How much plumbing camera inspection cost?
The price will depend on the length of the pipes, local rates, and how the images are recorded.
What is a sewer line inspection?
A sewer inspection is a prosses that the service technician does to check if there any problem with the pipes. the technician uses a video camera that he lowers to the pipes and identify if there any cracks, punctures, leaks, and obstructions.