If you're having drain line problems at your house or business, Water Guard Plumbing has got you covered. We are a leading plumbing company with over 15 years of experience in the industry, and we know what works. Moreover, we lend our residential and commercial plumbing services across Toronto and the GTA at high standards.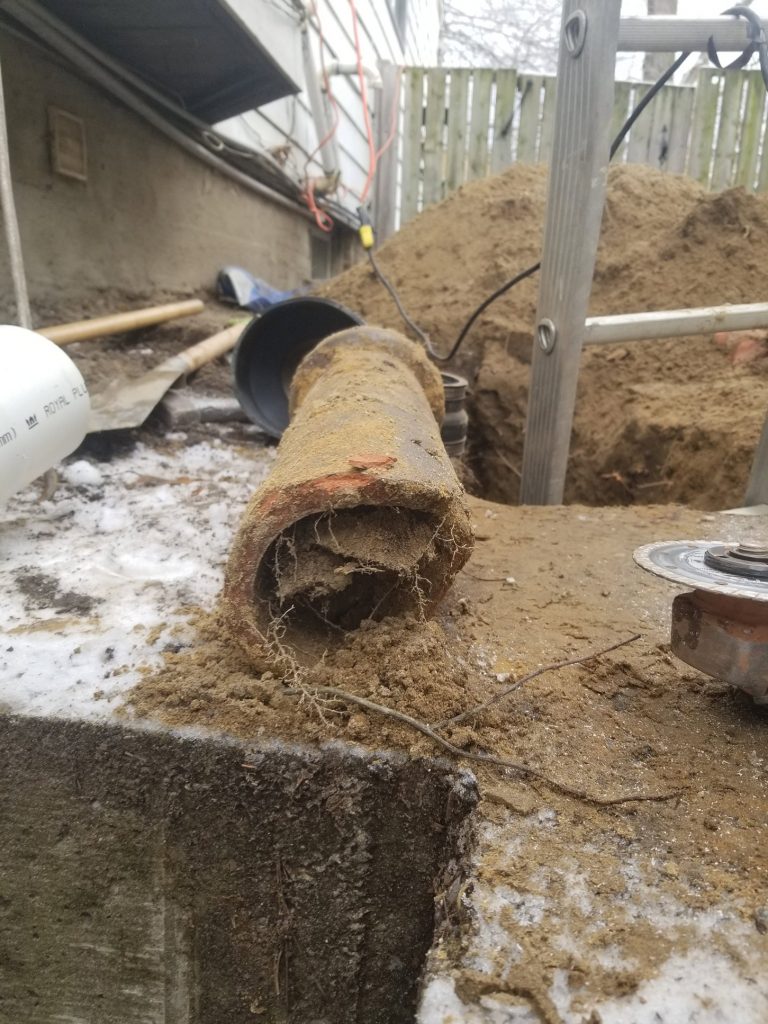 Sewer & Drain Line Services from Water Guard
We take our job seriously and we value our customers. This is why we make sure our drain line services are always thorough and adequate. Our process for every drain line project involves:
An in-depth evaluation of your property's drain system using advanced camera inspection technologies.
Determining the source of the problem you're having, whether it's a clogged drain, leaky sewer pipe, or sewer backup.
Obtaining a permit from the city to make sure our work is up to municipal plumbing codes.
Excavating the damaged sewer line as necessary and addressing the problem immediately.
After we finish the job, we backfill the excavated sewer line with gravel and clean the construction site.
Our work is organized and our project managers are skilled and dedicated. We see all our projects to completion with minimal damage to your backyard and property. Furthermore, if you wish to keep your landscaping intact, we offer trenchless drain repair services that require very little digging and maintain your garden or yard.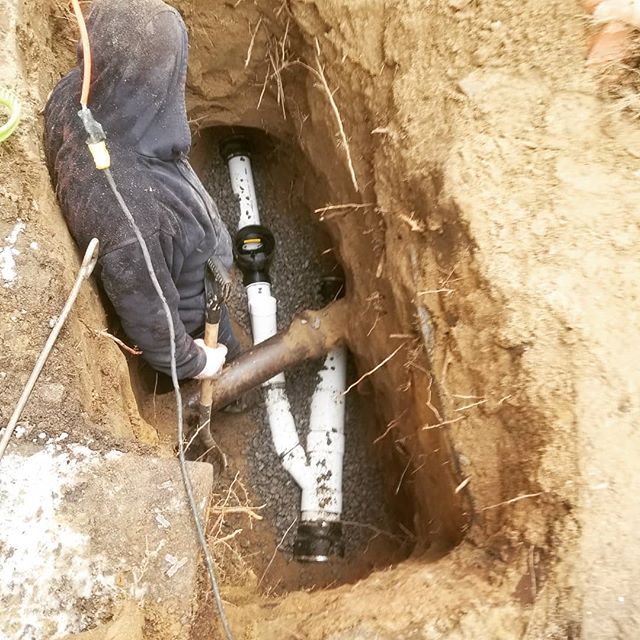 What Causes Sewer Line Problems?
As expert plumbers, we can immediately narrow down the cause of the problem. Sewer pipe damage occurs due to one or more of the following:
Natural wear and tear of drain pipes over time, especially if your house is older than 50 years
A buildup of food, grease, debris in your sewer pipes, which causes them to clog and your drains to back up (check our drain line cleaning page for more information)
Tree roots finding their way inside your sewer lines and causing blockage to your drains
The fluctuation in temperature from hot to cold, resulting in broken or burst sewer pipes.
These are all factors that can lead to broken or damaged pipes. In this case, you'll need a professional's advice. A drain line repair is the first option. A complete drain line replacement, however, is necessary if the line is damaged beyond repair.
How Much Does Main Sewer Line Cleaning or Replacement Cost?
As trenchless sewer line repair is not invasive and requires virtually no digging, the costs of the procedure versus traditional sewer line repair are much less, because most of the expenses of regular repairs come from the cosmetic and disruptive issues that digging cause.
When it comes to pipe repair, the most expensive factors aren't the machinery or materials used, but the uprooting, landscaping and lawn damage that ensues. While most trenchless repairs cost slightly more than traditional repairs, they save you much in the time it takes to fully repair the system, as well as the overall difficulties arising from then fixing your yard. Traditional sewer line cleaning just isn't worth it.
Drain Repair FAQs
How much does it cost to fix a drain pipe?
There are many factors that will determine your repair cost: cause of drain pipe break, location, how much damage was done by the break and cleanup costs. Therefore an estimate depends on the situation.

Homeowners insurance cover drain line fix?
Most of the insurance policies won't cover damages caused by lack of maintenance, the best option is to check with your insurance company.
What are the signs for a broken drain pipe?
Water backups or blockages, sewer odor smell, mold growth behind your walls, slow drain.
Can a clogged sewer line flood my basement?
Yes, if you have a blocked sewer line in your property, it might cause a sewer backup in your basement. For this reason, we recommend you urgently contact the plumbing professionals at Water Guard Plumbing.
Contact Water Guard Plumbing Today!
For the best sewer line cleaning or repair services, consider Water Guard Plumbing. Our professional teams are well versed in every aspect of plumbing services, and the company has over 20 years of experience serving Mississauga, Oakville, Hamilton and Burlington and the GTA Region. Offering cleaning, repairs, replacements and emergency services, our team of dedicated professionals ensures top quality service and customer satisfaction. Give us a call now at our mobile: 647-832-1738 or call our Office at 647-832-1738, or send us an email at info@waterguardplumbing.com. We look forward to your request!