Basement waterproofing is very important for properties in Toronto and surrounding areas. Many homeowners find themselves dealing with water coming up through their basement floor after heavy rain. Some even face a flooded basement. Of course, this event is normal for poorly constructed basements — but it doesn't have to be. Putting an end to a wet basement starts with proper basement waterproofing.
Signs of Water Damage in Your Basement?
Some of the most common signs of basement water damage include:
Cracks in the Foundation
When water enters your basement, it causes the foundation to shift, deteriorate, and break down. As a result, cracks form in the walls, floors, and ceiling. Furthermore, while flaking or peeling paint and wallpaper may be a sign of age, it can be a sign of water damage, too.
Mould AND Mildew
A wet basement is the perfect habitat for mould and mildew to grow. If you find mould or mildew in your basement, there's a good chance your basement waterproofing methods aren't working correctly.
Unpleasant Odour
Strange odours that persist for a long time are usually a sign of dampness in your basement. If you find a bad smell coming from your basement along with other signs of a wet basement, you should contact a waterproofing expert to determine the source of the problem.
Stains
Yellowish-brown stains on the walls, ceiling, and flooring are an indication of a water leak in the basement. Although stains like these can be painted over and fixed on the outside, they could be the result of bigger water problems in your property.
Being familiar with the signs of a leaky basement is essential for every homeowner. Now that you've learned about the symptoms of water damage in your property, it's time for the next step.
We encourage homeowners to educate themselves about available waterproofing options. This way, they know what to expect in terms of procedure, requirements, recommendations, and value.
Basement Waterproofing Methods
For the most part, basement waterproofing can be done either on the inside of your property or on the outside:
| | |
| --- | --- |
| External Waterproofing | Interior Waterproofing |
| Foundation Waterproofing | Primary Sump Pump |
| Foundation Damp Proofing | Backup Sump Pump |
| Exterior Weeping Tiles | Internal Weeping Tiles |
External Waterproofing
External waterproofing means the waterproofing method is done around the perimeter of your basement on the outside. This includes the following procedures: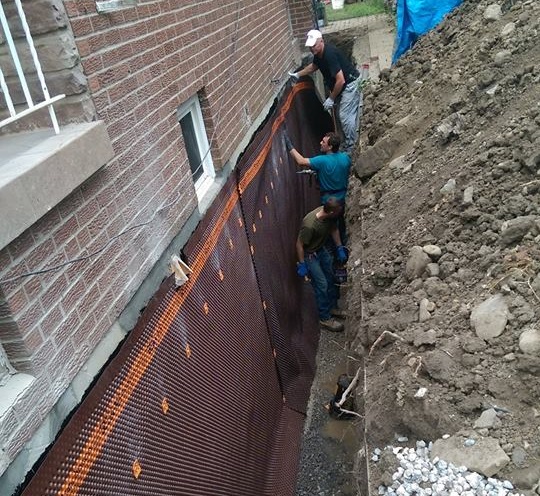 1. Foundation Waterproofing
Waterproofing is one of the most effective techniques because it doesn't just stop water from penetrating the foundation; it also seals any cracks or pores in the concrete for additional protection.
When we waterproof the foundation in a basement, we apply a tar or rubber layer of coating to seal the concrete slabs and walls in the house. By doing this, we create a barrier strong enough to withstand hydrostatic pressure that results from poor drainage.
2. Foundation Damp Proofing
Damp proofing is a process that uses an asphalt-based coat to the house's foundation on the outside. We either spray this coat or apply it by hand to the exterior walls of the property, creating a membrane that protects them from external moisture.
While damp proofing is a viable waterproofing option, it's not as efficient as waterproofing, simply because it cannot seal large cracks in concrete walls or slabs. This makes damp proofing insufficient by itself, and it often requires additional methods of waterproofing to work properly.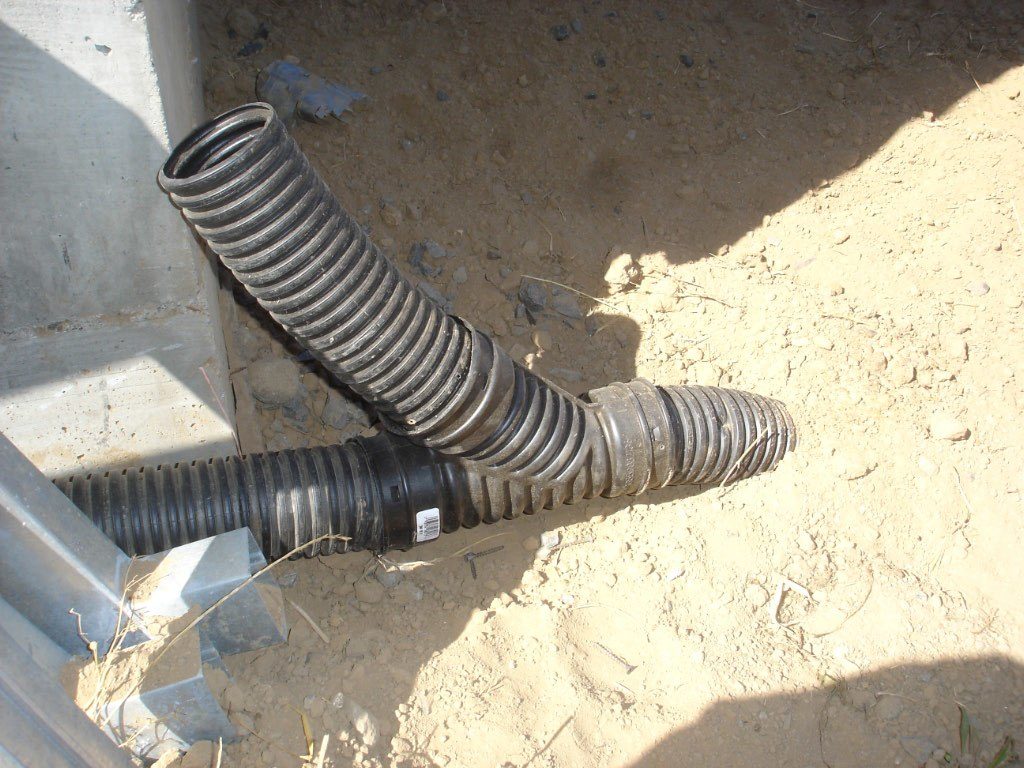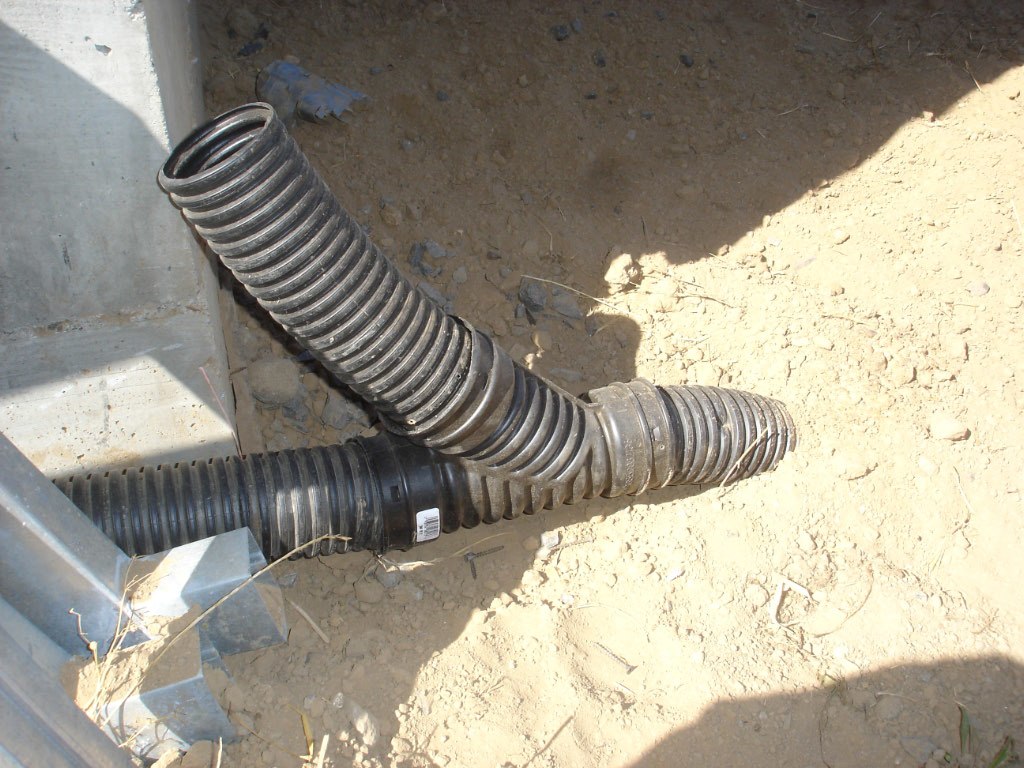 3. External Weeping Tiles
Weeping tiles are plastic pipes that we install around the perimeter of the basement walls, 75mm deep underground. They protect your basement from flooding by diverting water away from your property. The way external weeping tiles work is by filtering excess water through the pipe and out of your house by using a sloped installation technique.
Internal Waterproofing
This type of waterproofing refers to any procedure done or installed inside the house. It usually installed as an alternative to exterior waterproofing in different situations. Interior installation of the foundation water barrier is commonly used when exterior waterproofing is too expensive or inefficient. This may be due to concrete walkways around building perimeter, higher risk of damaging foundation and walls with digging etc.
---
Internal waterproofing also includes: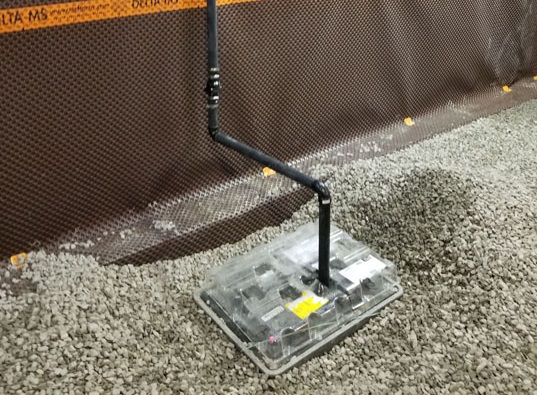 1. Sump Pumps
A sump pump is a machine we install in basements to protect them from dampness and moisture. Sump pumps usually stand in 2-foot deep sump pits that collect water when it travels either through soil or through the house's drains. When water collects in the sump pit, the pump is activated automatically using a sensor. The pump then drives the water out of the house through a drain pipe away from your basement.
Sump pumps are reliable for waterproofing, but they are bound to malfunction. This is why we recommend installing a backup sump pump in case your primary one stops working.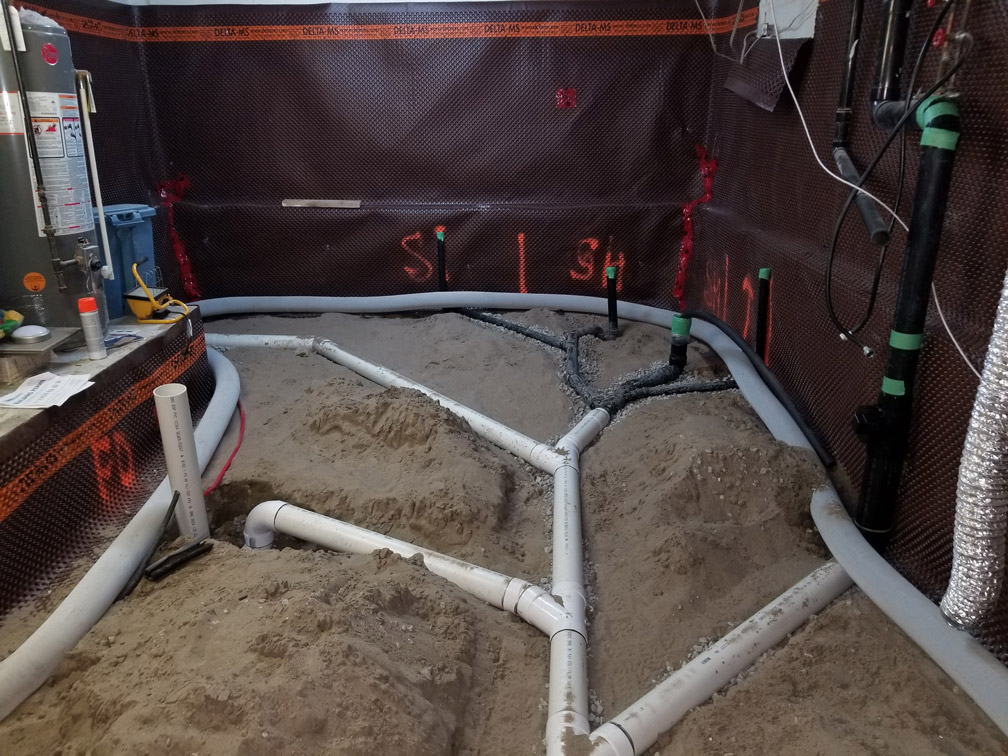 2. Internal Weeping Tiles
Internal weeping tiles we install on the inside perimeter of the house under the basement flooring. Similar to weeping tiles on the outside, internal weeping tiles are made of porous plastic that filters excess water. However, instead of connecting to the drainage system, the tiles connect to the sump pit in your basement. Together with the sump pump, the weeping tile works to direct water out of the basement, protecting it from water damage.
Benefits of Waterproofing
1. Strengthening the house's structure
When you waterproof your property, you enhance the foundation integrity. Waterproofing your basement prolongs the lifespan of your house's. By protecting your home from moisture, you preserve its foundation from rust, rotting, corrosion, and deterioration.
2. Preventing mould, mildew, and other harmful infestations
The advantage of concrete waterproofing is preventing dangerous growths in your basement. Mould and mildew weaken the structure of the house and its durability—waterproofing minimizes such growths, and as a result, maintains your house's foundation.
3. Reducing maintenance costs
When it comes to waterproofing, prevention is better than reaction. When you waterproof your basement, you reduce the costs of maintenance. Although waterproofing can be a pricey project, its long-term benefits far outweigh the initial costs. Waterproofing solutions are much better investments than dealing with a flooded basement or moulding walls in the future.
4. Increasing the value of your property
Waterproofing is a smart choice if you plan on selling your property. A waterproofed basement can count as a livable space and increase the overall value of your house. People interested in buying homes prefer one with a basement already waterproofed and ready to use.
Water in Your Basement? Call Water Guard Plumbing
A leaky basement is never a simple issue. Having water in your basement is an indication of much bigger problems and could result in costly damages. If you're facing a flooded basement, Water Guard is your trusted plumber. We have the expertise to fix your leaky basement, waterproof in just one day, and restore its foundation. If you have a flood in your basement and need emergency plumbing assistance, call Water Guard Plumbers now.
Try our basement waterproofing calculator here:
---
Need to waterproof your basement? Call Now – 647-832-1738
---
Waterproofing FAQs
What Causes Basement Leaks?
One of the common causes of basement leaks is pressure created during heavy rain. The soil becomes saturated creating water pressure, that pushes the moisture and the water through your walls and floor.
Is Basement Waterproofing Worth It?
Yes, it is. Main reasons to waterproofing your basement are to avoid future problems with your basement. Property in your basement could be subject to loss and you may face a huge renovation bill, not mentioning the problem with reselling the house. A wet, damp basement is going to sharply decrease interest and value in your home. But if you waterproof your basement, you can count on it as a livable space and to increase the value of your home.